In the comfort and security of their own homes, seniors who are unable to regularly leave home without support or those staying home to stay safe during COVID-19 can remain engaged and socially connected through DOROT programs. While some activities and services are designed for older adults living in Manhattan from 59th to 125th Streets on the West Side, and from 14th to 96th Streets on the East Side and Westchester County, other programs like Onsite@Home and Caring Calls are available regardless of location.
A member of our social work team visits with each older adult who wishes to participate in our "in-home programs". Our skilled social workers are proud to also provide vital support to older adults who join our programs.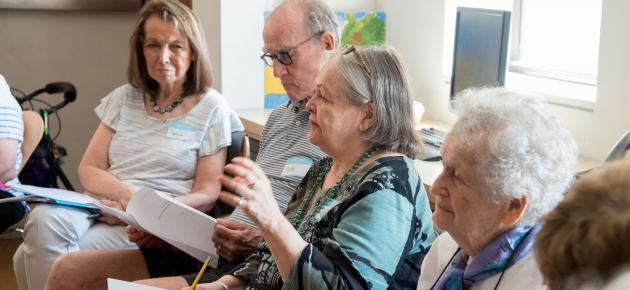 Aging Alone, Together is a six-week workshop offered by DOROT that provides solo agers with the tools, strategies, and support to age successfully and plan for the future.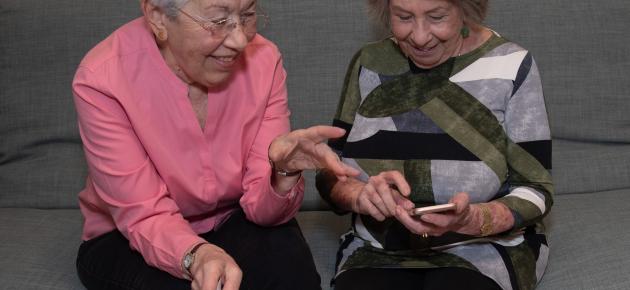 DOROT's Tech Coaching program enables older adults to grow their skills and comfort with their own smartphone, tablet or computer. Specially trained volunteers provide coaching at home, by Zoom, or over the phone. In home tech visits are available to those who live in Westchester or DOROT's catchment area in Manhattan. Learn and practice tech at your own pace with a DOROT Tech Coach.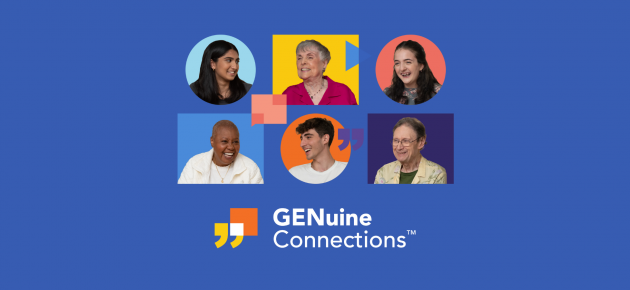 Teens and older adults meet weekly over Zoom in small groups to talk and participate in activities ranging from creative writing, chess, art, current events and so much more, leading to the discovery of new and shared perspectives. Volunteer today and experience the rewards of intergenerational friendship!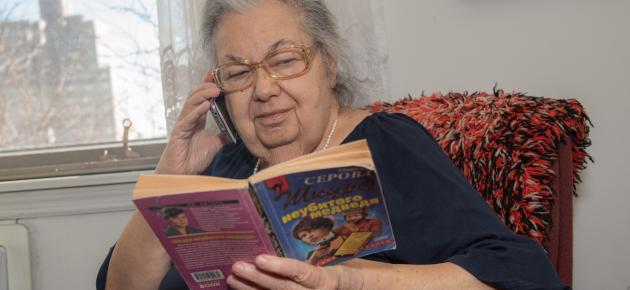 Intellectual growth and lively discussions are lifelong pleasures, available to seniors across the country from the comfort of home. Older adults need only a phone to join our vibrant community of learning and friendship. Our interactive teleconference programs help participants explore art and culture, discuss the news, gain practical advice on health and find support among peers.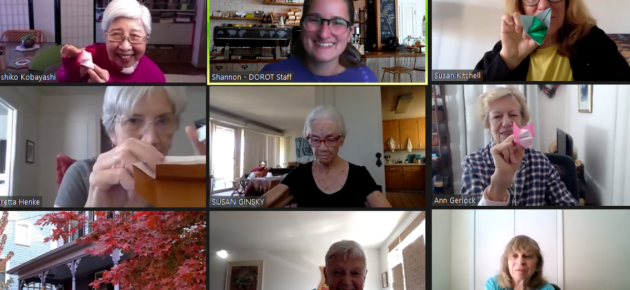 DOROT's Onsite@Home (OR Virtual Zoom Programs) bring vibrant, interactive, and life-enhancing programs right to your home via Zoom. Onsite@Home classes are designed for adults 60+ to create social connection among peers, encourage health and wellness and provide opportunities for dynamic learning and enrichment. Multiple classes are offered daily and participation is free. Join us for one or more!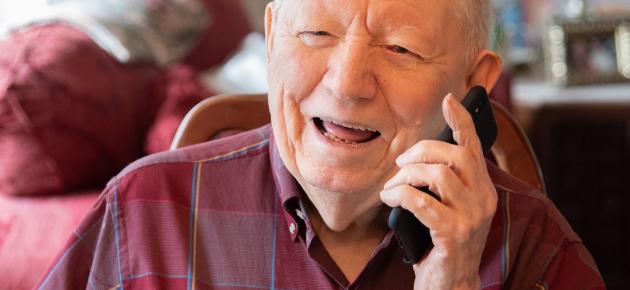 Connect with an adult volunteer for weekly phone conversations and friendship.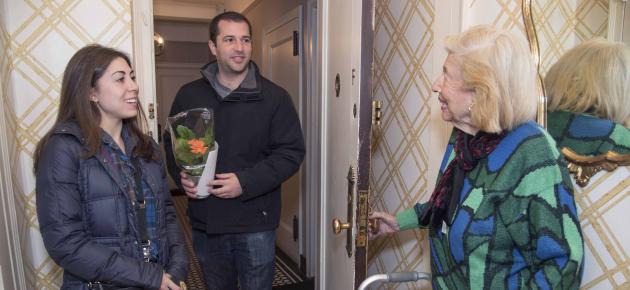 Friendly Visiting has been a core program of DOROT since our inception. It continues to be one of our most impactful programs for older adults seeking to make new friends and enjoy engaging activities in their home. DOROT social workers expertly match volunteers with older adults in Manhattan and Westchester – based on shared interests and geographic convenience – for weekly or monthly visits.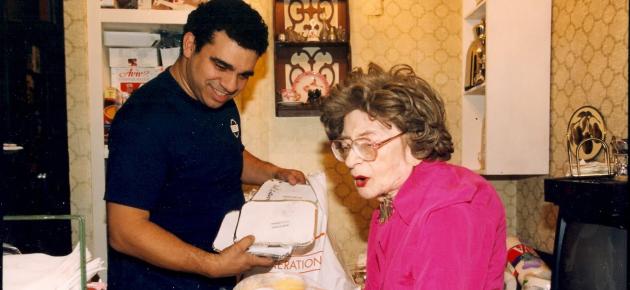 Older adults who follow a kosher diet can be assured of healthy and delicious meals, delivered each week. Participants in DOROT's Kosher Meals at Home program can expect individual choice of menu items and a weekly check-in phone call from a caring volunteer. Emergency meals are also available for those experiencing a major transition.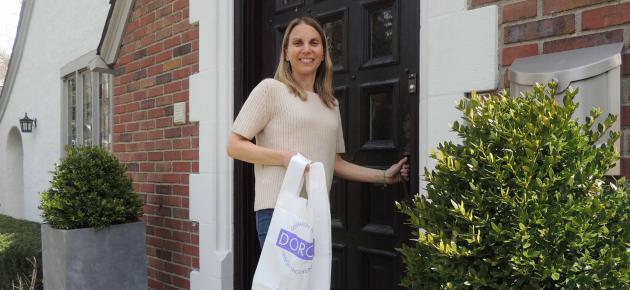 Package Deliveries
This signature DOROT program connects you with volunteers in celebrating the season! Four times each year, DOROT arranges for hundreds volunteers to take special packages of food and treats to participants like you and stay for a visit or make a friendly phone call. It's a unique opportunity to share stories, memories and companionship.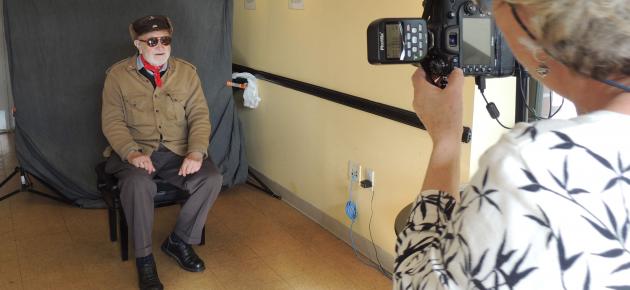 Telling one's history can be profoundly gratifying. DOROT's Legacy Projects provide elders the opportunity to share their life stories through narrative, art and photography. DOROT connects seniors with volunteers who visit them at home to capture memories, words of wisdom, photos and more in one-on-one, oral history-type projects. Each project is unique and presented in a range of formats reflecting individual preferences.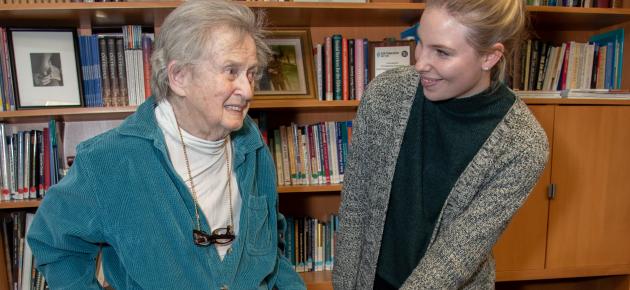 DOROT helps older adults with special, one-time needs by arranging for volunteers to accompany them on a walk or to a cultural outing, help with paperwork and errands, make birthday visits and much more. Fulfilling these requests typically takes two to four weeks.