DOROT is proud to present new, virtual programs created for Children of Holocaust survivors (2Gs). 
The programs, which include a 3-part Zoom series and a monthly virtual gathering, will provide a safe, welcoming forum to explore the experience of being a child of Holocaust Survivors. Our team of presenters, Dr. Irit Felsen, Dr. Jenni Frumer, and Dr. Yonit Hoffman, have decades of individual and combined experience developing programs and providing services and educational opportunities to Holocaust survivors and their descendants. We invite you to join one or all sessions.
3-Part Series: Zoom Programs for Children of Holocaust Survivors (2Gs)
Navigating Unsettling Times - Wednesday, November 15, 2023,  6:30 PM - 8:00 PM
Previous research has shown that children of Survivors have unique vulnerabilities and unique resiliencies. Our parents' experiences resonate today more than ever, as recent events in Israel may trigger associations with the Holocaust. However, our parents' endurance and capacity to move forward are also associated with unique resiliencies and adaptive coping in their children. Processing reactions and experiences to complex events may be more meaningful for children of survivors among peers who share family legacies of the Holocaust. This program will offer opportunities for interactive dialogue among participants and with the presenter. Interactive talk led by clinical psychologist Dr. Irit Felsen.
The Relationship Between Adult Siblings in Holocaust Families: Resentments and Cut-offs - Wednesday, December 20, 2023, 1:30 PM – 3:00 PM
The absence of parental emotional availability and stress in the family may lead to increased support and closeness among siblings or, the opposite, increased tension, rivalry, and hostility. Moreover, while the imperative to protect parents from further pain is an overarching concern among children of survivors, siblings often take different, even opposing, roles in attempting to fulfill this emotional obligation. Such differences among adult siblings often lead to intense mutual resentments and even to relationship cut-offs in Holocaust families. These relationship dynamics and what we choose to do to facilitate connections with the extended family for the third and fourth generations will be discussed. Interactive talk led by clinical psychologist Dr. Irit Felsen.
The Intergenerational Transmission of Resilience - Thursday, January 18, 2024, 6:30 PM – 8:00 PM
Have you ever wondered about the resilience and strength you as a 2G may have inherited from your Survivor parents and what you may be transmitting to your children, the grandchildren of Holocaust Survivors? Strengths and "resilient identities" can arise from trauma and be carried through the generations. Dr. Hoffman's research and personal experience as a child of Holocaust Survivors have shaped her understanding of the "intergenerational transmission of resilience." Research on vulnerabilities and strengths of 2Gs & 3Gs, including epigenetics and "post-traumatic growth," will be discussed. Examples will be shared, illustrating the "how" of these types of resilience. Interactive talk led by Dr. Yonit Hoffman, Director of Holocaust Community Services.
Monthly Virtual Drop-In Gatherings for Children of Holocaust Survivors (2Gs)
These monthly, drop-in gatherings will be co-facilitated by Dr. Irit Felsen and Dr. Jenni Frumer. The structure of each Gathering includes a brief overview of the purpose of engaging 2Gs in co-creating and participating in a safe virtual community to explore and share experiences. Breakout rooms are encouraged, initially to promote introductions and connections, after which specific themes for each breakout room may emerge.
Dates: The first Wednesday of the month from 7:00 PM – 8:15 PM
Wednesday, December 6, 2023
Wednesday, January 3, 2024
Wednesday, February 7, 2024
Wednesday, March 6, 2024
Wednesday, April 3, 2024
These programs are presented in partnership with MorseLife Health System and CJE Senior Life.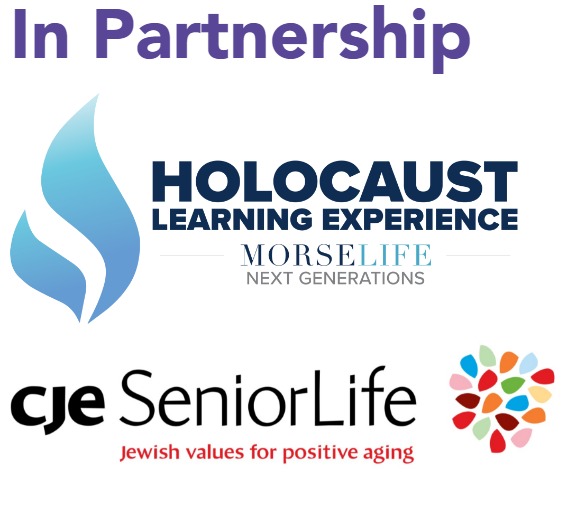 DOROT's new Zoom Programs for Children of Holocaust Survivors (2Gs) are made possible by funding provided by the New York State Office for the Aging: NYS Contract Nos. T220193, T200057, T220219 and T230080. The contents are those of the author(s) and do not necessarily represent the official views of, nor an endorsement, by NYSOFA or the NYS Government.